Scott Buckley Seely
December 25, 1911 - January 20, 2011

---

- Interview with Scott Seely -
Accent Records Founder
---
Robert : Nick Lucas felt the records he made for the Hollywood based Accent Record label were among the finest and most satisfying of his career. Scott Seely arranged and is often heard playing the piano on the Accent recordings. Today I will be talking to, owner - producer of the Accent Records label, Scott Seely.
Robert : Scott, Accent Records, has had a lot of incredible talent on it through the years; Nick Lucas, Buddy Merrill, just to name a few. When did you start Accent Records and what inspired you to do it?

Scott: [first two words inaudible]... I opened my office in Hollywood in 1951 at 6533 Hollywood Bulevard. I was writing arrangments for singers and writing songs with David Garvin and Mark Bigler, both very good lyric writers. So they became my song writing partners and I started S&R Music Publishing as an ASCAP company and Boomerang Music as a BMI company. In 1954 a songwriter named Robert Hunter called and we had a meeting and talked about his songs. He said he would like to start a recording company and asked me if I would be interested in working with him. I agreed and I came up with the name Accent Records. After a few months Hunter, whose family was in the tool business in Fullerton California, decided he was too busy with the business and he gave me a chance to acquire the record company.
Robert:
I'm very proud to say that Melody Man Records now has full ownership of the masters Nick Lucas recorded for Accent. Songs that he recorded between 1955 and 1980, and I want to say thank you Scott for preserving the voice and guitar work of such an incredible talent. When did you meet Nick Lucas and when did he become one of your recording artists for Accent?
Scott :
I meet Nick Lucas at a club date in Los Angeles. Nick was the feature act on the show and I was playing piano accompanying all of the acts. I'd never heard of Nick since my music career started in the Bing Crosby era. At intermission I was sitting next to Nick and told him I was an arranger. He asked me for my card which I gladly gave him. I knew after accompanying him that he was a superstar singer and entertainer. A few days later I received a phone call and Nick made an appointment to come into the office. He wanted me to arrange several songs for him to use in an upcoming show. About that time Mark Bigler was doing arrangments for a vocal group called 'The Mad Hatters.' They were looking for a place to record and liked our studio. I knew that Nick wanted to do some recording so I asked him if he would like to record some of his favorite songs and we would put out some singles with 'The Mad Hatters' on one side and his recordings on the other.
[1]
He thought that was fine, so we released several singels using this format. We did most of the recording at Radio Recorders on Santa Montica Bulevard. Most of the Nick Lucas masters that you now own were recorded there. Incidentally Robert, your Original Formula website is a great tribute to Nick.
Robert:

Thank you for those kind words Scott.

Nick Lucas.com

, Accent Records.com and

Melody Man Records.com

are three websites we recommend everyone to visit for tons of information and musical enjoyment.

March of this year Melody Man Records released a re-mastered version of the Souvenir Album, that album was originally released on Accent back in 1968. Let us now listen to one of the tracks from that CD, 'It Happened In Monterey".

Song Plays

Robert:
Scott your piano playing adds a wonderful feel to this album. Could you tell us when you started playing piano and do you play any other instruments?
Scott :
I started playing piano in Oklahoma when I was six years old. My mother was my first teacher. After high school I attended Bethney College in Lindsborg, Kansas where I studied piano and composition and played in the local dance bands. In 1930 I was in Garden City, Kansas working for my uncle in a produce house and playing piano in the local dance bands. One morning I received a phone call from Lloyd Snyder in Liberal, Kansas. Lloyd had been the band manager for Buddy Rogers Orchestra at Kansas University and was just organizing a new band in Liberal, his home town. He offered me twenty-five dollars a week, so I left Garden City and got to Liberal as fast as possible. I stayed with the band for a year and then I played with bands in Kansas City, and Chicago before moving to Los Angeles. Being an arranger and composer I did study other instruments but piano was my forte.
| | |
| --- | --- |
| | |
| Scott Seely in home studio Palm Desert with Del Sharbutt | |
Robert: Not only do you own Accent Records, you are a producer, you arrange music, play piano, you have also written several books over the years. You have worked with Dinah Shore as mentioned in your book 'Popular Singing' and also have vocally coached quite a few Hollywood singers. I also know that you have worked with Florence Henderson. You have kind of been in the background working with other talents and have been very modest of your own talent. Historian Michael R. Pitts said that Nick Lucas told him, "Scott Seely was one of the best musicians with whom I'd ever worked with. He doesn't know how talented he really is." Did you ever lead a band? Also, have you ever recorded an album of "Scott Seely"?

| | |
| --- | --- |
| Scott : Thanks for those kind words Robert. On the Accent recording dates I was the leader and when we started our studio in Rancho Mirage in 1979 I got calls from agents in Los Angeles asking me to put bands together for special events in the Palm Springs area. But I never did consider myself a band leader. You mentioned Diana Shore and Florence Henderson, I never coached either one, but when Diana Shore was recording for the Xavier Cugat Orchestra in Hollywood, I worked with Cugat's arranger Don Swan on some of the arrangments. Don Swan was one of the writers of the song "Dream A Little Dream Of Me." I played piano in Don's band at the Santa Monica Ballroom. That was where the Lawrence Welk Orchestra became one of America's favorite bands and Buddy Merrill became a household name. Florence Henderson did record in our studio in 1998. It was the first time she had ever done any solo recording. She was a true professional, but I was never her vocal coach. As far as having a CD of my own work, there is one in the making. While studying composition with Dr. Wesley La Violette in Los Angeles, I composed "A Suite For Two B Flat Clarinets." It was recorded in our studio by Dr. Phillip Rehfeldt and his pupil Scott Vance. Dr. Rehfeldt is one of the world's great clarinetists and his recordings have been released on many classical labels. Scott Vance did the final mastering and a CD will be released on the Accent label sometime early next year. It will be distributed by Global Recording Artists headed by Karl Anderson. | |
Robert: Let's talk about Buddy Merrill. Could you tell us a little bit of your friendship with Buddy and how did you meet him?
Scott : My friendship with Buddy Merrill started in 1964. David Garvin, who took the phone calls in our office, made an appointment for Buddy, who called after seeing our name in the L.A. directory. At that time I didn't watch the Lawrence Welk Show and I didn't know that Buddy was a star performer on the show. When he came into the office he said he had a demo of recordings that he had produced and would like to play them for me. As soon as I heard the songs I asked David Garvin to come in and listen to the tapes. After we heard the recordings I suggested to Buddy that we release a single and see what would happen. He agreed and we signed a contract that has lasted through fourty-two years and is still enforced today. The single that we released was 'Brontosaurus Walk', an original that Buddy wrote, and a standard, 'Poinciana'.

Scott Seely and Buddy Merrill
in Buddy's home studio circa 1964.
Robert:
Well I have the CD player all warmed up and ready to go. So let's hear a couple of tracks from Buddy Merrill's WORLD OF GUITARS CD on Accent. We're going to be playing two of my favorites from the CD album, Buddy's original "Central Park" and "Busy Bee".
Songs Play
Robert:

You just heard Buddy Merrill. We are talking to owner and producer of Accent Record label, Scott Seely. There are a lot of Buddy Merrill albums now available on CD that have been beautifully remastered. How many albums did Buddy make with Accent, and how many are available on CD now?

Scott :

Thanks for playing the Buddy Merrill tracks Robert. Over all there were twenty LPs released. Seventeen were released on Accent, distributed by GNP Cresendo, world wide. Two LPs, 'Country Capers' and ' World Of Guitars' were originally released by

Ranwood Records, but reverted back to Accent.
GNP Cresendo released, 'Beyond the Reef' and '25 All Time Hits'. 'Buddy Merrill and His Magic Guitars' was released by Barry Music in the UK as a compilation album. There are five CDs available on Accent and two on GNP Cresendo. Buddy's country recordings, 'Steel Guitar Country' and 'Country Capers' are now being packaged as one CD. This will be a special album featuring Buddy's steel guitar work. There are several originals in the album and great standards like, 'Okie From Muskogee', 'If I Were A Carpenter', 'Sweet Dreams Baby, and 'Proud Mary'. This album may be a collectors item.
Robert:
Also, you can purchase Buddy Merrill's and
Nick Lucas'
CDs at Amazon.com, or at either of the websites that I mentioned earlier.
A couple of more questions Scott, how's your wife Dolores doing and how was your trip to Hawaii this past October?
Scott :
Thanks for asking. Dolores is fine. We enjoyed the Hawaiian Island Cruise, actually we didn't leave the ship this time. Just relaxed, read some books and enjoyed the ship amenities. Robert, thanks for having me on your show.
Robert: It's my sincere pleasure sir and I want to thank you for the time you took for answering my questions. I wish you all the best.

END TRANSCRIPT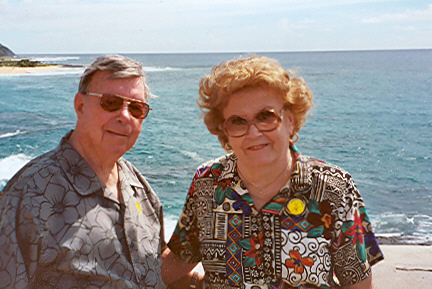 Scott and Dolores, off the Honolulu Shores 2004

The preceeding interview first aired Dec.1, 2006 on internet radio at: Melody Man Records Live365 station.
Copyright © 2006 Melody Man Records. All rights reserved.

Footnote:
Scott and I had a few business transactions over the years and for the record I've noted the ones that relate to this page and my websites:
Scott sold and assigned me all of the masters Nick Lucas recorded for his Accent Records label,
Scott sold and assigned me copyright and publishing rights to seven songs,
Scott and I wrote a song together entitled, "Hawaiian Skies"
After my 2006 interview with Scott he gave me a mint 78 record by Dinah Shore (Columbis 37090) that he did vocal arrangements on.
Scott also sent me professional lead sheets to songs from his Boomerang Music catalog because he thought they would be good for me to record for my label. Scott also offered me the entire Buddy Merrill-Accent Records catalog but we could not come together on a price. I was very honored to know he wanted me to have control of those masters because Scott felt Buddy Merrill was Accent's greatest success stories.
In early 2010 Scott discovered a 1/4 inch master tape of Nick Lucas with the recorded date of May 20, 1974. Scott had previously overlooked this master in one of his vaults but when he discovered it he promptly mailed it to me in regards of our initial assignment agreement. I have not yet had a chance to listen to or transfer it.
by John Blair

Scott Seely, a songwriter, arranger, and musician, started Accent Records in 1954 as a way to promote original compositions for which he held the publishing rights.
Seely's career started in Kansas in 1930 as a jazz pianist and arranger for the Lloyd Snyder Band. By the mid-1940s, he had an office in Hollywood, called "Designs In Music," that provided musical arranging and vocal coaching services. He had calls from artists such as Dorothy Dandridge and Martin Denny (the future creator of "Quiet Village").
His first music publishing company was S&R (Songs & Records) Music, formed in 1951 to professionally represent original compositions and arrangements. He partnered with lyricist/copyist David Garvin and songwriter Mark Bigler. Accent Records was formed two years later as a way to promote songs and arrangments in the S&R catalog by that time.
Since S&R Music was affliated with ASCAP, Seely started two other publishing companies around 1956 with BMI affliation: Boomerang Music and Meteor Music. While the label was established primarily as a means to promote Seely's publishing, a variety of artists approached the label with demos looking for a record deal. Many of these demos were released under the Accent name. A large majority were quickly forgotten, but a few sold well enough or were "discovered" by record collectors many years later. These artists included The Accents (an R&B vocal group led by Jackie Allen and brought to the label by Mark Bigler, who named the label, itself), Nick Lucas, Ted Embry (the classic rocker "New Shoes"), the Merced Blue Notes, and The Human Expression (a Westminster, California, band whose "Human Zoo" album was reissued a few years ago by Cicadelic Records).
Collectors of novelty records will know the name Smiley Joe Omohundro (aka "Omo The Hobo"). He released a number of singles on his own, independent labels but had no fewer that 45 singles released on the Accent label! Conservative Los Angeles television talk show host Wally George had a 1958 recording ("Drag Strip," his first) released on Accent and Sam Eddy, a founding member of The Revels ("Church Key") had a solo effort on the label as well ("Lonely Walk"). One Accent release that confused many fans of surf music was "Eyes Of A Child / Just A Waitin' " by Dick Dale. This was a vocalist from the Lawrence Welk Orchestra and not the well-known King of the Surf Guitar.
Also of interest to collectors: Accent 1228 by The New Things (1967) was a good cover of The Fireballs' "Dumbo" with a little surf reverb added. Country artist Alvie Self recorded for Accent long after his more desirable rockabilly-styled recording had been cut for other labels. A good rock guitar instrumental band, The Don Gils, made several singles for Accent, perhaps the best being "Guitar Rock / Bad Bass Boogie" (Accent 1199 , 1965).

Accent's greatest success story was Buddy Merrill, who had been performing and recording with the Lawrence Welk Orchestra since 1955. Merrill had been experimenting with overdubbing for some years. By 1964, he had reached a point where he was able to create multi-layered, master quality recordings in his home studio using two 3-track recorders and only himself playing different guitar parts. Some of these recordings were played for Seely who immediately signed the guitarist to a contract, which began a lifelong business and personal relationship involving dozens of singles, albums, and CDs.
Now based in Palm Desert, California, Seely continues to operate. Accent Records and his publishing business with most of his work focused on digitally reissuing all of Buddy Merrill's masters.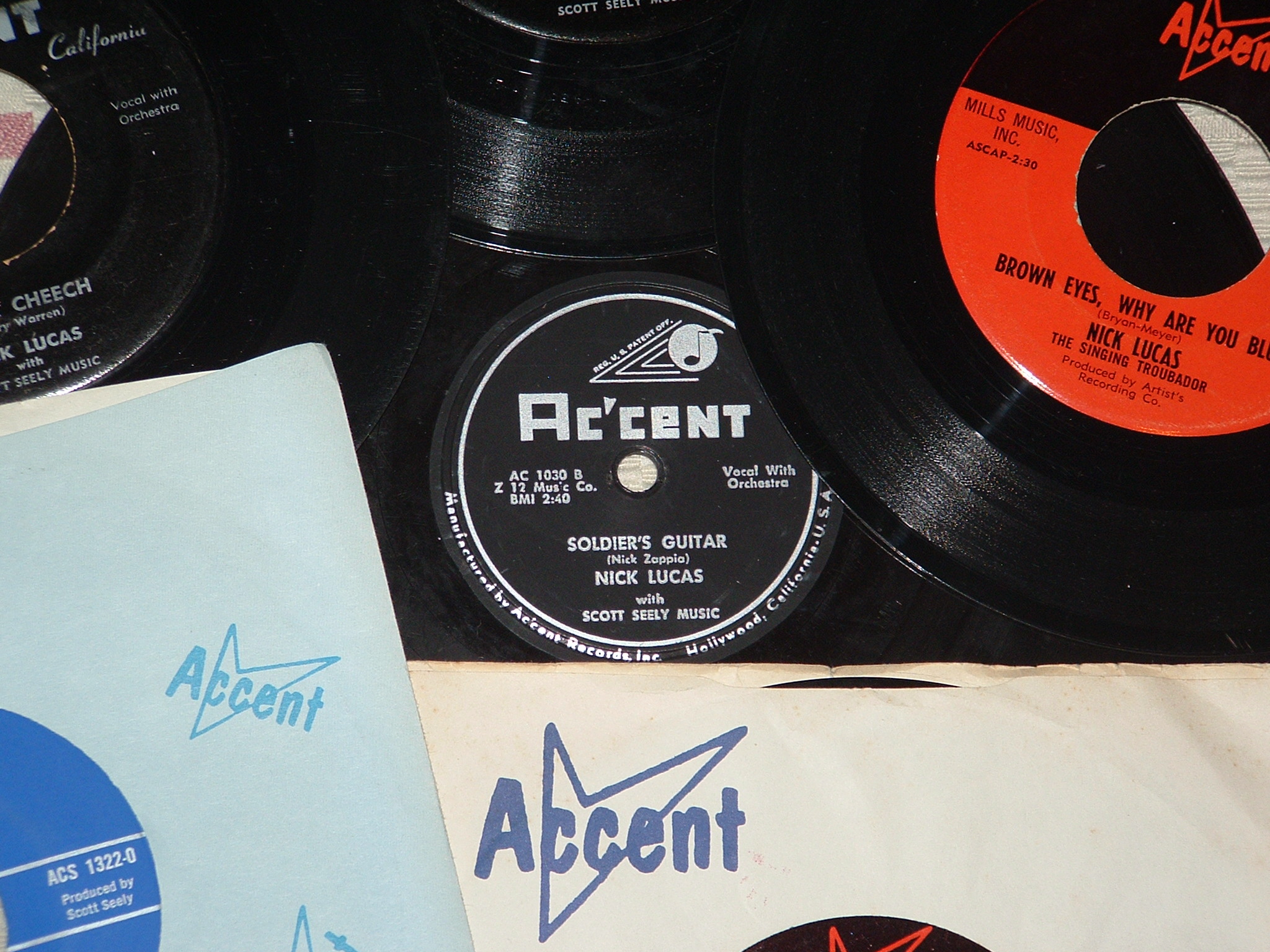 CORRECTION:
This correction comes from an email exchange with Scott Seely



----- Original Message -----
From: Robert Perkins
To: Scott Seely
Sent: Sunday, April 22, 2007 5:17 PM
Subject: Nick Lucas
Hello Scott,
I was just listening to the interview I had with you and something jogged my memory to what I wanted to ask you.
In the interview you mentioned Nick Lucas recorded some singles with THE MAD HATTERS on one side and NICK LUCAS on the other side. That of course greatly piqued my interest. Do you remember the titles and release numbers of those sides?


Sincerely,


Robert
---
----- Original Message -----
From: Scott Seely
To: Robert Perkins
Sent: Monday, April 23, 2007 7:18 PM
Subject: Re: Nick Lucas


Hello Robert---
Today I went thru my original Accent Singles label copy book and found that the The Madhatters changed their name to 'The Accents' We used them as backup artists for Nick Lucas on some of his early recordings . I can't recall , nor do I have any label copy on recordings with just Nick on one side and the Madhatters on the other side. I'm sorry I made that statement on the interview. So many years have passed and so many things have happened since 1955.
Best regards,

Scott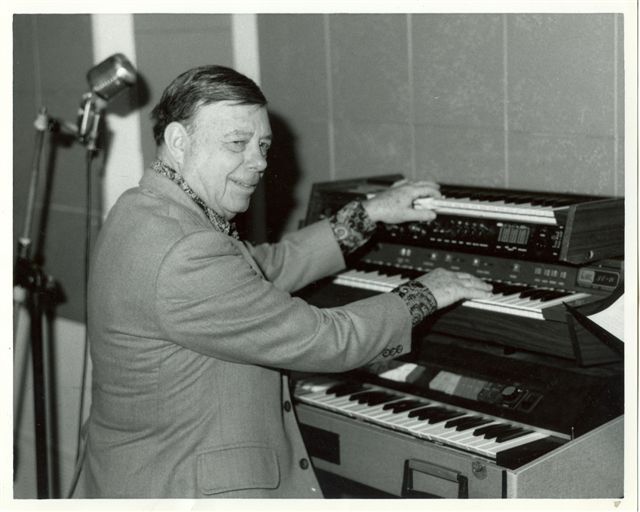 Scott Seely in the Rancho Mirage Studio 1980s
I have dedicated this page in memory of my friend Scott Seely. I had the pleasure of doing business with Scott from 2003 up until he became ill in 2010. I considered Scott my friend, business and music advisor/mentor.
Scott Seely's friendship and counsel will be missed.
Robert Perkins - January 22, 2011