Nick Lucas - Capitol Records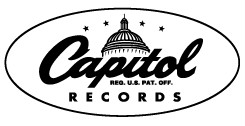 Around 1948 a record producer named
Huckster
sold recordings Nick Lucas made for him to Capitol. The only sides used by Capitol from
Hucksters
were "Side By Side" / "Tip Toe Through The Tulips" which did very well for Capitol. As a result Nick Lucas recorded six more songs for Capitol. Two of them, "
Brown Eyes, Why Are You Blue
", and "
I Used To Love You
", were used by Capitol as demos and not for sale to the general public.
It is interesting to note here that Nick Lucas did his own vocal harmonies, accompanying himself, on the "
Side By Side
" recording, making it among the first multi-track recordings in history.
Backed on these recordings by Andy Phillips' Quintette, Nick, as always, plays his acoustic
Nick Lucas Gibson guitar
on these sides and presents a fine jazzy guitar solo containing interesting bass lines on "
Tiptoe Through The Tulips
".
The recordings of "
Tea Time On The Thames
" and "
Don't Gamble With Romance
" are performed by Nick (guitar and vocal) and an organist.
The remaining titles are, "
Don't Call Me Sweetheart Anymore
", and "
Bye, Bye Blackbird
".
Nick signing a recording contract with Capitol Records, Manager Jack Beekman signed him to a transcription pact with Teleways Radio Productions, and inked him to another year's run with the famed Ken Murray's "Blackouts" in Hollywood. Here (left to right) Carl F. Kraatz, Teleways prexy; Charles A. Kennedy, Teleways veepee; Ken Murray, Nick Lucas; Jack Beekman, Lucas's personal manager;James Conkling, Capitol Records' veepee in charge of artists and repertoire, work as a Lucas planning board.