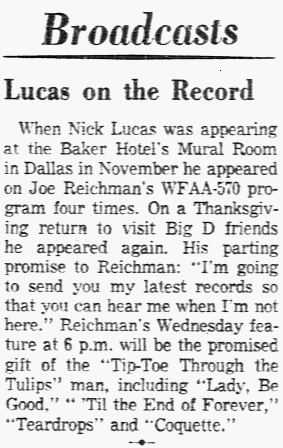 Nick Lucas - Cavalier Records
Nick Lucas recorded for Cavalier Records of Hollywood California October 8, 1952 and again in 1956. Jimmy Diamond's orchestra accompanied Nick Lucas on the Cavalier recordings.
Cavalier Records was owned by
Tom Spinosa
and was headquartered in San Francisco. There were two sessions: the songs on the ten inch Cavalier LP were recorded October 20, 1952. In 1956 Nick Lucas recorded five more songs for Cavalier, which combined with most of the songs from the earlier record were issued on a 12 inch LP.
From the two Cavalier recording sessions two Lps and several singles from the Lps were released between 1952 and 1956. Some of Nick's standards are included like, "Brown Eyes, Why Are You Blue", and "I'll Get By", but some of the titles were previously unrecorded by Nick and were released on Cavalier for the first time, examples are, "
Francine
", "
Teardrops
", and "
Til The End Of Forever
". The entire list of recordings Cavalier released of Lucas are found on the
discography pages
.
These albums were produced under the direction of Tom and Jack Spinosa and assisted by James V. Salemi. Recording engineer was Jack Hawkins. Album covers were designed by
Tom Spinosa
and Don Cavalier.
A note of interest is the vinyl on the 1952 10 inch Lp release,
(CAV-5003)
and the singles from that album came in various colors: green, red and blue. The 1956 12 inch Lp, (CVLP-6007) vinyl wasn't as extravagant and was only pressed in the standard black.