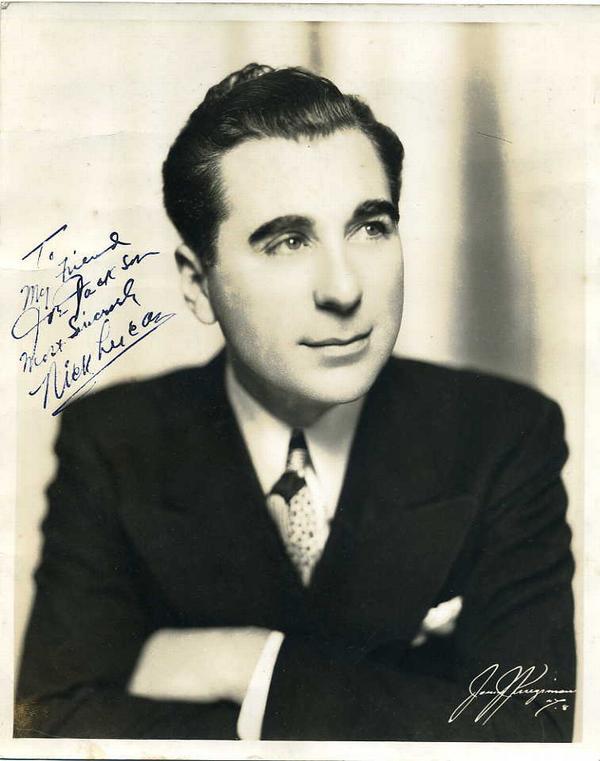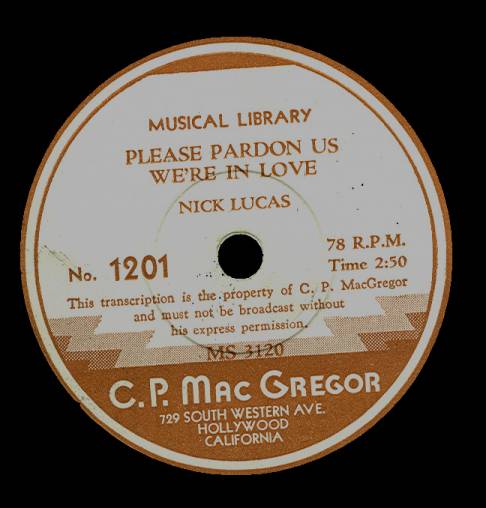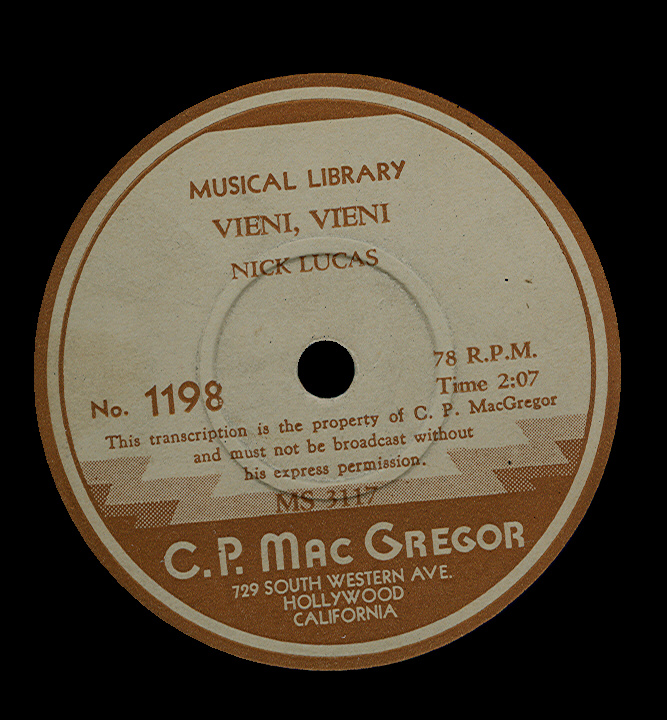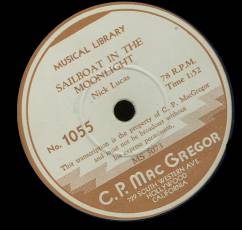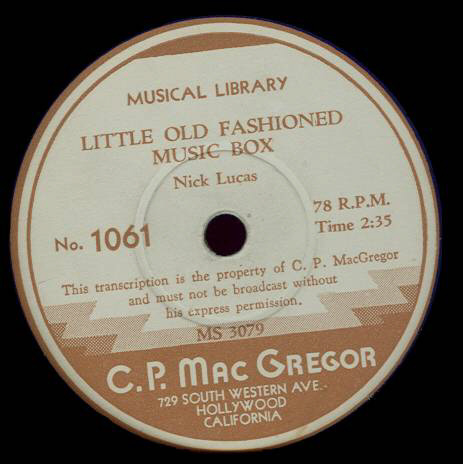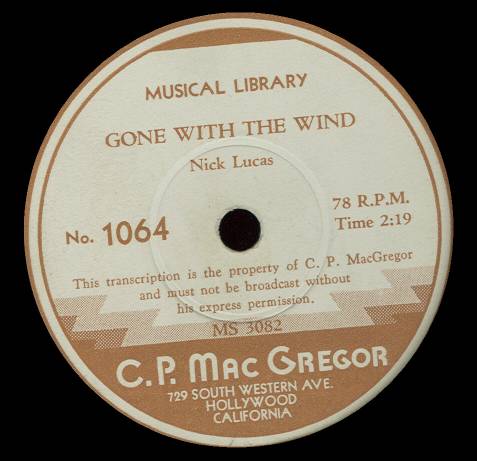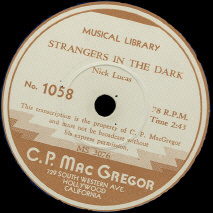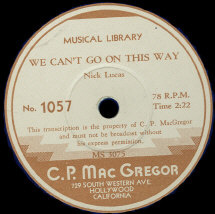 Nick Lucas
---
MacGregor Transcriptions
---
By the 1920s, Brunswick was America's second most important phonograph and disc manufacturer. The Brunswick phonograph headquarters for the entire West Coast was established at 980-982 Mission Street, with a phonograph department on the mezzanine floor. By 1924 C.P. MacGregor was the manager of the Brunswick division for the San Francisco territory. This was probably the same MacGregor who later made custom records issued by the MacGregor and Ingram Recording Laboratories, a firm listed in San Francisco's 1930 and 1931 phone books. From 1932 to 1937 the company was MacGregor and Sollie. C. P. MacGregor, producer/transcriber/recording Studio owner, died in Hollywood, CA, USA Dec. 5, 1968. Age: 71. In 1924, MacGregor was Brunswick Records manager for the San Francisco territory. He later had his own studios; "CP MacGregor Studios", at 729 S. Western Avenue, Hollywood, CA, where many stars were recorded, including Nick Lucas.

After Nick Lucas left Brunswick in late 1932 he recorded for several labels and also recorded for some transcription companies including MacGregor,(around 1937) and
The United Transcription System about ten years later.

Below is a listing of MacGregor Transcriptions Nick Lucas recorded around 1937. I'm sure there must be others as I've never been able to track down a catalog for the company from that period.

---
Nick Lucas - Vocals and
Guitar
---
It Looks Like Rain In Cherry Blossom Lane
(NO. 1049, MS 3067)
You'll Never Go To Heaven
(If You Break My Heart)
(NO. 1050, MS 3068)
Til The Clock Strikes Three
(NO. 1053, MS 3071)
The Moon Got In My Eyes
(NO. 1054, MS 3072)
Sailboat In The Moonlight
(NO. 1055, MS 3073)
Dream In My Heart
(NO. 1056, MS 3074)
We Can't Go On This Way
(NO. 1057, MS 3075)
Strangers In The Dark
(NO. 1058, MS 3076)
Tip Toe Through The Tulips
(NO. 1059, MS 3077)
Side By Side
(NO. 1060, MS 3078)
Little Old Fashioned Music Box
(NO. 1061, MS 3079)
The Miller's Daughter Marianne
(NO. 1062, MS 3080)
Tomorrow Is Another Day
(NO. 1063, MS 3081)
Gone With The Wind
(NO. 1064, MS 3082)
My Cabin Of Dreams
(NO. 1122, -MS A1799)
When I Look At You
(NO. 1196, -MS 3115)
Pickin' The Guitar
(NO. 1197, MS 3116)
Vieni, Vieni
(NO. 1198, MS 3117)
You Can't Stop Me From Dreaming
(NO. 1199, MS 3118)
In A Little Carolina Town
(NO. 1200, MS 3119)
Please Pardon Us We're In Love
(NO. 1201, MS 3120)